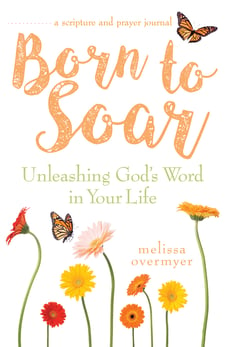 "If you want to know the transformative power of God — a life of abundance in Christ—you are in the right place. Dig in and hold nothing back. You will be transformed — you will soar."
— Dan Burke, founder of the Avila Institute for Spiritual Formation and SpiritualDirection.com
In six weeks, you can change your spiritual life!
Drawing from the image of the monarch butterfly at every stage of development—egg, caterpillar, chrysalis, hatching, soaring and reproducing—Overmyer teaches in six simple lessons how to "cocoon" into God's presence through prayer, Christian meditation and pondering the truths of Scripture. If you feel yourself in need of a renewal or transformation in your life, Born to Soar is the place to start.
Born to Soar is a beautiful prayer and Scripture journal experience that will gently coach you through an exploration of the truths of Scripture.