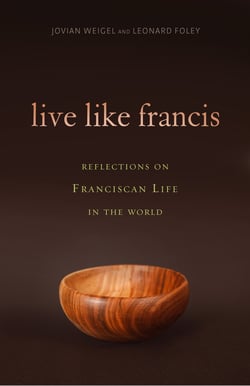 "The Franciscan family, as one among many spiritual families raised up by the Holy Spirit in the Church, unites all members of the People of God—laity, religious, and priests—who recognize that they are called to follow Christ in the footsteps of St. Francis of Assisi."

—Rule of the Secular Franciscan Order, excerpt from the book, Live Like Francis
Week by week, Live Like Francis will help you understand the Franciscan way in a secular world.
Whether you are a professed Franciscan of many years or someone just beginning to seek a spiritual understanding of Francis and Clare of Assisi, Live Like Francis will give you the tools you need to live the Gospel—a directive that remains as simple and, at times, confounding, today as it was eight hundred years ago during Francis's life.
Through a process of prayer, reflection, study texts, questions, and connections to Scripture, you will gain a deeper understanding of the Franciscan way and, through it, the Gospel.
Divided into fifty-two sections, this book encourages you to contemplate one aspect of the Franciscan way each week. Week by week, Live Like Francis will help you answer the Gospel's call to simplicity, peace, gratitude, and service, and live a life in balance with all of God's creatures.