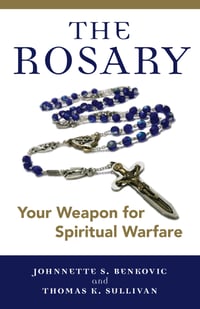 "Reads like a manual for victory over God's enemies and ours…. Every reader's heart will burn with new zeal for Mary's weapon of love. A must-read for the present hour in human history.
—Kathleen Beckman, LHS, author, Praying for Priests: A Mission for the New Evangelization
The weapon for such a time as this!
Johnnette Benkovic and Thomas K. Sullivan have gathered some of the most astonishing historical and contemporary accounts of victories associated with the Rosary, along with their own inspiring personal experiences. You will discover insights that will enhance your own experience of the Rosary, including special prayers based on the lives and writings of the saints who understood the power of this classic Catholic devotion.