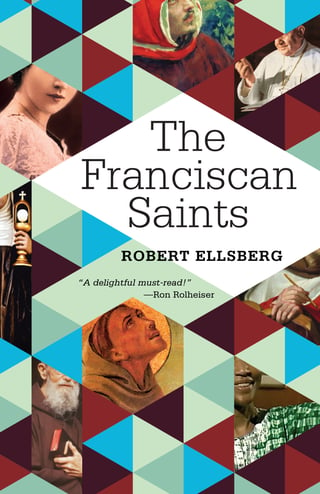 Saints are not born by nature but by grace and Ellsberg's pithy lives shows that responding to God's invitation to love is the first step toward holiness. —Ilia Delio, OSF,
Inspiring, compelling and, at times, challenging legacies of these saints for a new generation. —Daniel P. Horan, OFM
I read from at least one of Robert Ellsberg's saint books every morning after my quiet sit. Now I get to read more about my own Franciscan family of saints! —Fr. Richard Rohr, OFM
Once again, Robert Ellsberg inspires, giving a few well-worn saints a fresh coat of paint, and bringing lesser-known figures out of the shadows. —Pat Farrell, OSF

Stories of holiness in the gritty, messy real world!
Reading Robert Ellsberg's profiles of holy men and women is like throwing open a window in a stuffy old church and taking in great gulps of fresh air. He broadens the traditional vision of sanctity and calls modern readers of all stripes to claim their potential for moral and spiritual growth, courage and action. By choosing relevant models and contemporary heroes, he makes holiness accessible and attractive to ordinary people.
These 101 spiritual trailblazers span the centuries from Francis and Clare to Solanus Casey and Mychal Judge, with representatives from every walk of life and corner of the world. Obscure lay peasants, married activists, and controversial social reformers take pride of place alongside better-known theologians, founders, and canonized saints.