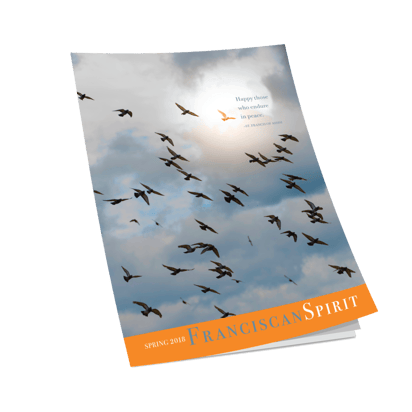 Franciscan Spirit
Launched in October of 2017, this new journal of inspiration in the spirit of St. Francis of Assisi received great reviews.
"The whole edition is quite beautiful and well designed. Congratulations to your whole creative team!"—Fr. Richard Rohr, O.F.M.
Published two times a year, Franciscan Spirit features writing from scholars and devotees of the way of St. Francis, striking photography, information on new releases, and special readers-only discounts. Our next edition will be in the mail in May 2018. Register now to receive it!
It's free and available in both print and digital formats. You can't get it on the newsstands. There will never be ads. This is a unique way to immerse yourself in the spirit of St. Francis.
Highlights from the Spring issue:
Interview with Casey Cole, OFM, founder of the Breaking in the Habit media,
and an excerpt from Called: What Happens After Saying Yes to God
John Moses on The Art of Thomas Merton: A Divine Passion in Word and Vision
Richard Rohr on the vision of St. Francis in an age of anxiety
Please note: at this time, we can only ship to the United States. If you are outside of the US, please sign up to receive a digital edition of the full issue as well as exclusive online content from Franciscan Media. Subscribe today by filling out the form on the right.